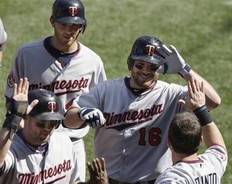 The Yankees ended a 12-game drought against the Yankees Sunday thanks to a go-ahead grand slam in the top of the eighth inning from Jason Kubel.  It was his only hit of the game, but it was a big one.  Even more impressive, he hit the slam off Yankees closer Mariano Rivera. 
The Twins trailed 3-1 heading into the eighth.  But Denard Span hit a single to shallow left, Joe Mauer walked, Michael Cuddyer singled, Jim Thome walked with the bases loaded, and then Kubel cleared 'em.  The Twinkies are now 6-29 in the Bronx under manager Ron Gardenhire's leadership.  More importantly, they're 23-14 and own a 1.5-game lead over the Tigers in the AL Central.
Kubel, 27, hasn't had the best start this year.  He's currently hitting just .225 with a 661 OPS and two home runs in 98 at-bats.  Perhaps the exciting four-run shot will get his juices flowing.