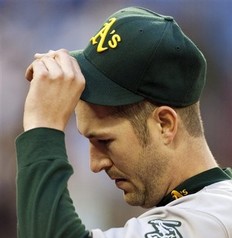 UPDATE:  Duchscherer has been placed back on the disabled list, according to MLB.com's Jane Lee.  Chad Gaudin has been designated for assignment.  And Kurt Suzuki was activated from the disabled list.
11:40am: Justin Duchscherer was activated Saturday after spending three weeks on the disabled list and was scheduled to start last night against the Angels.  But something went wrong with his hip during pregame drills and he was scratched in favor of Tyson Ross.
"As I was throwing (on flat ground), my hip felt OK, but it just got
kind of achy," Duchscherer said Saturday. "Then when I was in the bullpen, I just
couldn't find a way to land without having pain.  I started throwing from the stretch, and then I told [pitching coach Curt Young]: `I can't throw like this."'
A's manager Bob Geren indicated in his post-game press conference that Duchscherer is likely to land on the disabled list yet again.  And now the "Duke of Hurl" himself is worried that the injury might require surgery:
"If I have to have surgery, I'm done for the year," Duchscherer said.
"That's obviously not an option I want to explore unless it's
absolutely necessary. I don't want to do it. It's very mentally
draining."
Hopefully he can avoid the procedure and get back on track in a couple of weeks.  Duchscherer has made five starts this year and currently stands 2-1 with a 2.89 ERA and 1.36 WHIP.