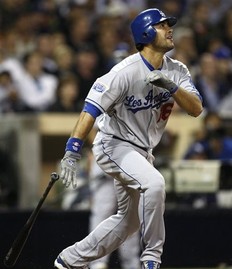 Dylan Hernandez of the Los Angeles Times tweeted late Saturday night that Dodgers outfielder Andre Ethier has been diagnosed with a fracture at the tip of his right pinkie finger.  It's horrible news, especially when you consider how important Ethier has been for the red-hot 19-17 Dodgers this season.
Ethier, 28, leads the team in home runs (with 11), RBI (38) and OPS (1201).  He's also sporting a Major League-best .392 batting average through 125 at-bats this season and has tallied 11 game-winning hits since 2008.
The Dodgers have not revealed enough information to give us a clear picture of how the fracture might affect Ethier moving forward.  Many players in the past have been able to fight through tiny breaks and continue slugging.  Then again, others have required surgeries and long stays on the disabled list.  We should all know more once the outfielder is reevaluated Sunday in Los Angeles.
If he is forced the miss time, the Dodgers could call up Xavier Paul, who is doing quite well this season at Triple-A Albuquerque with a .382/.427/.60 batting line in 76 at-bats.  Garret Anderson could also be asked to play more frequently in the outfield.  And same goes for Reed Johnson.