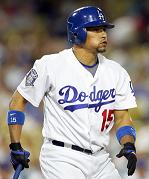 The Dodgers have decided to delay Rafael Furcal's return from the disabled list after he felt some tightness in his right hamstring during two rehab games with Class A Inland Empire this week.
Furcal was originally expected to be activated on Friday, however Dodgers manager Joe Torre told Jim Peltz of the Los Angeles Times that "it's probably going to be a few days" before Furcal returns to the lineup.
"He just didn't feel sure that he could just turn it loose," Torre said.
"He feels down about it, but we can't have him unless he's all the way
there. His speed means too much to his game. He didn't reinjure
anything; it's just not all the way back."
Furcal was batting .309/.378/.420 with six RBI, eight stolen bases and 16 runs scored over his first 19 games before injuring the hamstring during the first game of a doubleheader against the Mets on April 27.