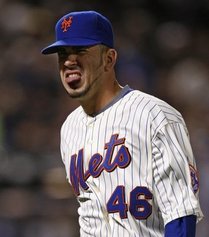 UPDATE: Perez has been moved to the bullpen, according to Adam Rubin of ESPNNewYork.com.
Kevin Burkhardt of SNY.tv reports that Manuel has yet to name a replacement, but logic dictates that it would be left-hander Hisanori Takahashi. If not, the Mets would need to make a roster move should they choose to pluck R.A. Dickey or Dillon Gee from the minor leagues.
9:01 AM: Mets manager Jerry Manuel wouldn't come right out and say it, but it would appear Oliver Perez is on his way out of the rotation after his latest implosion against the Marlins on Friday night (quote via Adam Rubin of ESPNNewYork.com).
"I'm concerned with the outings that we're getting," Manuel said. "The
last two outings, I have to be concerned with. We have to entertain some
different things."
Perez was trounced for seven runs over just 3 1/3 innings against the Marlins, tying a career-high by giving up four home runs. He served up three home runs in the fourth inning alone.
The left-hander now has a 5.94 ERA and 1.92 WHIP over his first seven starts, compiling an ugly 27/28 K/BB ratio. Even worse, Perez is 3-7 with a 6.52 ERA and a 89/86 K/BB ratio since signing a three-year, $36 million contract with the Mets following the 2008 season.
So, yes, Perez is likely on the way out of the rotation, but the Mets would need his permission before they send him to the minor leagues. And so, with Scott Boras in tow, there's a good chance Perez joins Jeff Suppan as one of the game's most overpriced mop-up men.
Regardless of where Perez goes from here, the most likely candidate to replace him in the rotation is Hisanori Takahashi. The 35-year-old southpaw has a 2.74 ERA over his first 14 major league appearances, compiling an impressive 29/10 K/BB ratio over 23 innings.