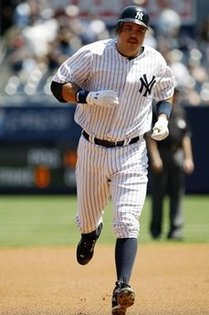 According to Wallace Matthews of ESPNNewYork, Yankees general manager Brian Cashman said that Nick Johnson may need surgery to remove inflamed tissue from his right wrist.
Johnson was already expected to miss four weeks, but if the injury requires surgery, he would likely miss an additional four to six weeks, placing his return somewhere around early August. The team is currently hoping that the wrist responds to a recent cortisone shot.
"It's my intention to learn if [the shot] worked as soon as possible,"
Cashman said on the field at Yankee Stadium before Saturday's
Yankees-Twins game. "If not, then we want to go right to the surgery.
When healthy, we know what this guy can do, but he can't do anything for
us right now."
Johnson, who was signed to a one-year, $5.75 million contract during the winter, was batting .167/.388/.306 with two homers, eight RBI and a 23/24 K/BB ratio before injuring the wrist last Friday against the Red Sox.
Cashman, who said that he "knew what he was getting into" when he signed Johnson, said that for now, the team will use players from the current roster or Triple-A — like Juan Miranda — to take his place in the lineup. I'll put extra emphasis on for now.
While surgery is a sobering possibility for Bombers fans, the good news is that Nick Swisher was back in the lineup on Saturday and Andy Pettitte didn't skip a beat in his return to the rotation, tossing 6 1/3 innings of shutout ball in a 7-1 win over the Twins.