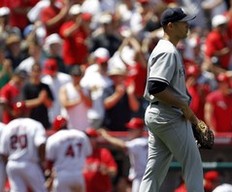 Yankees manager Joe Girardi made a calculated move Saturday in an effort to protect Javier Vazquez's confidence, bumping the righty from his next scheduled start. 
Vazquez pitched a solid seven innings of two-run ball last Wednesday against the Tigers and was in line to take on either the Red Sox or Rays this week.  But Girardi made the decision Saturday to have the struggling starter avoid both high-powered offenses.  Vazquez, 33, will take on the Mets at Citi Field on Friday instead.  From the Newark Star-Ledger:
"We talked amongst ourselves and discussed it," Girardi said Saturday. "I know
Javy wants to pitch. But that was what we thought was the right
decision at this time."
Some Yankees fans might want to call it "babying," but this is a smart move for both the club and Vazquez himself.  He is 1-4 this year with an 8.10 ERA and a 1.80 WHIP over six starts and the Yanks continue to battle for the top spot in the American League East with Tampa Bay.  They need their best starters on the mound right now and Vazquez — for the time being — is not one of them.