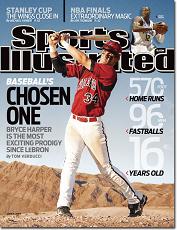 Want to get better acquainted with 17-year-old catcher Bryce Harper before he's (almost certainly) drafted No. 1 overall by the Nationals this June?  Dave Sheinin of the Washington Post wrote a great piece about him this afternoon, collecting opinions about the prodigy's attitude and personality from several different sources.  It's worth reading the entire article, but here are some quick Harper facts:
He can throw a 96 MPH fastball.
He's capable of playing a variety of positions, but really wants to catch as a professional.
His father helped build the Las Vegas Strip, laying rebar for 27 years.
Harper led the National Junior College Athletic Association with 23 homers, 68 RBI, a .917 slugging percentage and 71 runs this year.
The next-highest player in the conference had 11 home runs.
Harper scored a 4.0 GPA in the fall at the College of Southern Nevada.
There are only 22 days until the draft.
Harper undoubtedly has a swagger about him.  He wipes his face with eye black before every game and has a whole routine as he steps into the batter's box that seems a little LeBron James-like.  But he is most definitely a competitor and an incredible talent with a better-than-expected background.