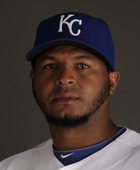 Lots of people weighing in on their choice of walkup/coming out of the bullpen music in the earlier thread today. Initial takeaway: man, a lot of you guys like rap metal and 70s guitar bands.  No one wants to walk to the plate listening to The Smiths or The Jesus and Mary Chain? [crickets]
Anywhoo, before I even wrote that post today I got an email from Ron Rollins that is appropriate to the subject:
During the Royals game yesterday, the
announcers were
talking about relief pitcher Robinson Tejeda.
The music he used to have played when he
walked on was "Crazy" by Gnarls Barkley. He said he was walking too many people with
that song,
so he switched to "Ring of Fire."  Because he was "on fire."
The fact that a relief pitcher uses "Ring of Fire" as his walk-on music is the most perplexing thing I've read all day.  I mean, sure, it's badass, but c'mon: "I went down, down, down and the flames went higher?"  Really?
Tejeda is officially disqualified from the receiving the Rolaids Fireman of the Year Award. Assuming they still award it. Which is something I'm not entirely sure of.