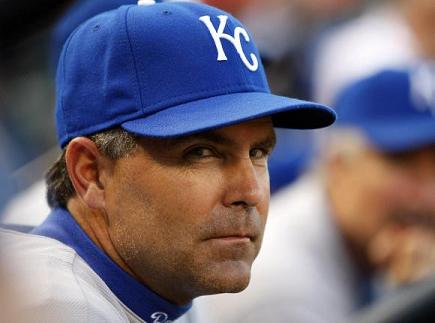 Contrary to popular belief, people still do pay attention to the Royals. Here's what the blogosphere, allied media and one Royals player is saying about Trey Hillman's firing:
Zack
Greinke: It's the players' fault. If we win (more
games),
this doesn't happen.
Joe Posnanski: Why didn't Hillman have more success as manager? There are numerous
reasons, none more significant than the lack of Major League talent the
Royals have put on the field day after day. As the old line goes, Casey
Stengel, Earl Weaver and Joe McCarthy combined weren't winning with this
team . . . make no mistake, the big reason they have lost the last three years is
not because of Trey Hillman, it is because they are a bad baseball team.*
Sam Mellinger: This is a good thing, because Hillman was a problem, but only in the
sense that a broken arm is a problem for a patient in ICU.

Rany Jazyerli: Wow. I thought it was coming – I didn't think it
was coming today . . . And for the record, I take no great pleasure in this. Hillman
earned this, but he was dealt a losing hand. I really do wish him the
best of luck.
Matt Klaassen: Trey Hillman needed to go, if for no other reason
than showing that there is some level of "accountability" within the
organization.
Jeff Sullivan: I'm not entirely sure why the Royals allowed Hillman to stick around
for one last game, fully aware of his inevitable fate, but in my head, I
like to think they were just giving him a chance to go out on a high
note . . . That, of course, is giving the Royals the benefit of the doubt, and
ignores any ulterior and/or incompetent motives. I don't know that they
deserve that, but at least as far as Hillman's concerned, anything's
better than going out on a 4-0 shutout loss to Fausto Carmona.
Michael Engel: it's not his fault entirely. Hillman may wear the uniform, but he
doesn't step up to bat or toe the rubber. But he's also made enough odd
decisions that worked to the detriment of the team and their chances to
win ballgames . . . that he had to go.
Can't say I disagree with any of that.
*A substantial portion of Posnanski's
post is devoted to the idea that Hillman's biggest problem was that
he simply had never been in a Major League clubhouse and that his lack
of experiencing led him to all sorts of mistakes.  It's definitely worth
reading. Most writers would simply assert Hillman's lack of big league
experience as a problem and expect us to believe it because they said
it. But Posnanski provides multiple examples of how the lack of
experience worked to Hillman's detriment, transforming what often sounds
like a cliche into strong analysis.