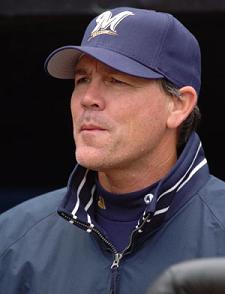 The Royals' obsession with former Braves continued when they named Ned Yost to replace Trey Hillman yesterday. Yost was a Braves coach back during the 90s run, and Dayton Moore knows him well.  In that respect this move fits in with other plates of comfort food Moore has ordered like Tony Pena, Jr., Kyle Davies, Horacio Ramirez, Odalis Perez, Bryan Pena.
Of course, contrary to conventional wisdom, those re-acquisitions by Dayton Moore have actually paid off pretty well.  Inspiring moves? Nah. And no, they haven't resulted in anything spectacular, but they haven't burnt the team too bad, either because the performance of the acquisition was moderately acceptable or because the cost was not too great.
Which pretty much describes Ned Yost.  Yost was lauded in his early years with the Brewers for creating a good atmosphere for young players. True, Ryan Braun and Prince Fielder would have hit under any manager, but a lot of the other guys —  guys like Rickie Weeks, J.J. Hardy, and Bill Hall — got more or less regular playing time and a stable environment in which to play as they came up.  Yost deserves credit for that, and for smootly transitioning the Brewers from a team of bad old players into an up and coming squad during his tenure.
On the other hand, he appeared to lose the Brewers' clubhouse as those players got a bit older, and some have questioned whether veterans will listen to him.
Yost also had great difficulty managing the Brewers' bullpen — especially during the team's collapse down the stretch in 2007 — and appeared to have some problems with his temper and possibly even his sanity, getting tossed out of three games in a week at one point and engaging in a silly war of beanballs and bad blood with the Cardinals when cooler heads would have let it all go.
But pressure isn't going to be an immediate problem for the Royals, because they're not in danger of facing any, at least from a baseball perspective, any time soon.  There are a lot of veterans on this team who may try Yost's patience — Jose Guillen and Yuniesky Bentancourt spring to mind — but it's not like anyone not named Grienke, Soria or Butler has a lot of room to make waves. Basically anyone is expendable.
The Royals do have an improving farm system and, if he holds on long enough, Yost might be the man to ease the youngins' transition into the major leagues.  But like I said this morning, I think Yost is a bridge-the-gap guy, and just don't think he's going to last long enough to see that really happen.
Still, he's a pleasant enough fellow to have around for the time being.