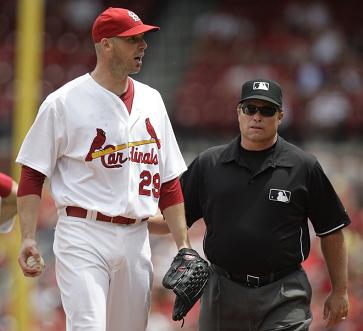 What a crock of a controversy in the Cardinals-Astros game yesterday.  While no punches were thrown, the benches cleared after Carlos Lee and Chris Carpenter started arguing with one another following Lee's pop up in the third inning.
Based on all the reports I've read, the source of the problem was Lee yelling, presumably at himself, about popping up. "My word, I hath made a mistake," he declared. Or something to that effect.  That set off the jawing because, apparently, Carpenter found it disrespectful that Lee blamed his own swing rather than Carpenter's pitching prowess for the pop up. Here's Tony La Russa explaining it all:
"Pence hits the ball out of the ballpark. Carp didn't make a
good pitch. Carp doesn't say a word. He doesn't say anything to the guy
that hit it. It's his mistake. Well, routinely now, hitters pop up a pitch they think they should
deal with and they start making noises, and that really is disrespectful
to the pitcher. Most of the pitchers just turn around and ignore it.
Carp doesn't. I think Carp's right, and I think Carp's in the right.
Respect should go both ways.

"If he gets you out, he gets you out. Zip it and go back to the
plate. If he gives it up, you zip it and let the guy go around the
bases–or single, double, whatever it was. Most pitchers let the guy
jabber. I don't think Carlos Lee is anything special as far as a guy who
disrespects, but it's so common now. Carp will let you know."
Which is completely crazy. Ballplayers now have to be so mindful of their opposition's feelings that they can't even register anger when they screw up?  If this was ever something anyone besides Tony La Russa believed guys like Paul O'Neill would have been murdered years ago.
Players have cussed, slammed bats, punched walls, destroyed water coolers and otherwise exhibited anger at their mistakes since time immemorial.  That La Russa is now creating, from whole cloth, some notion that baseball respect requires that they never display emotion like Lee did would be pathetic if it wasn't so doggone laughable.
Here's what really happened: Chris Carpenter was still angry at himself for giving up the homer to Hunter Pence. Having his confidence shaken a bit, he needed to feel like he was a stud for coming back and retiring Lee.  When Lee wouldn't do him the courtesy of acting like a beaten man, Carpenter flipped and decided to jaw about it.  There's not much more to it. (UPDATE: Oops, I was wrong: Pence's homer came after the popup. Lance Berkman's RBI single preceded Lee's at bat. General point still stands, though; Carpenter was sore that he was pitching in trouble.)
I appreciate that La Russa is simply trying to defend his guy here, but please, baseball is positively drowning in unwritten rules, secret handshakes and the Byzantine politics of "respect." How about everyone just get over themselves already and play some friggin' baseball?