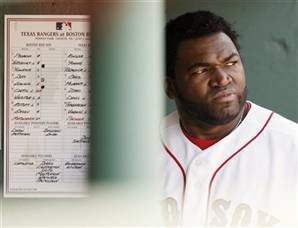 I would read more newspapers if the stories were written in this style
Observers were forced to admit, however, that, okay, so far in May
Ortiz has put up an OPS of .999 and has seven RBIs. But for a $24.5
million platoon DH? Are you freaking kidding them?

I mean, baseball insiders said, come on, people: The 2009 American
League MVP, Twins catcher Joe Mauer, is earning half a million less than
Ortiz, for Christ's sake.

In addition, and not that it really has anything to do with anything,
but damn, they noted, the WNBA team salary cap is $775,000, so by
himself Ortiz will earn nearly one and a half times what an entire
professional sports league will be paid this year.

And not for nothing, reporters were told, they couldn't help noticing
that David Ortiz earns $12,964,000 more than Uniontown, PA high school
history teacher Mark Davis, who, according to students and principal
evaluations, is successful and inspiring at his job every single day.

Highly placed baseball officials speaking on condition of anonymity
have got to tell you that, if it were their money, they would have
f—— cut the guy a year ago.
Yeah, I know, but I needed a pick-me-up after that last post.
(Thanks to Joe L., who I will be challenging to a loser-leaves-town match next month at the Greensboro Coliseum, so you better be there, jack!)