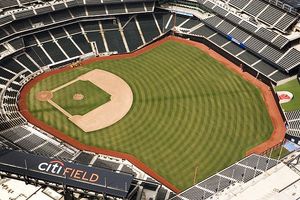 The New York Times has an article up today about baseball's decline in attendance, and it singles the Mets out as the biggest decliners since last year:
After 22 home games, attendance at Citi Field is down 6,852 fans a game,
the largest decline by number in Major League Baseball. That translates
to an average of 31,892 fans at games this season compared with 38,744
last season. The Mets are also 11th in average attendance in the major leagues,
down from seventh last year.

Dave Howard, the Mets' executive vice president for business
operations, blamed the early-season decline on bad weather in April, the
team's disappointing play in recent years and the economic downturn.
(The weather in April was warmer and drier than normal in the New York
area.)
I like that last parenthetical because, yeah, blaming the weather is kind of bogus. It's been bad the last week or so, but April was actually way lower on rainouts across baseball than most years tend to be. Still, this article is overstating the problem, at least with respect to the Mets.
This biggest problem is that the article appears to be comparing last year's full-season average to April and May of this year.  The 2010 Mets have yet to play with school out, with mid-summer promotions or with marquee opponents such as the Yankees or Phillies in town.  I'm not saying all of those things are going to even up attendance to last year's average, but it's going to close the gap a bit.
Moreover, while the article does talk about the novelty of new stadiums wearing off quicker than it used to, such a phenomenon is now the norm, not the exception, so singling out the Mets on this score seems rather unfair.  The Mets had a nice run-up in attendance at Shea between 2006 and 2008, but really, their average draw for the previous decade or so was between 20,000 and 34,000 in a park that brought in way less revenue per person than the current one does.
I'm not saying that things are fabulous on the attendance front. I'm simply saying that it's easy to overstate the problem. Even if all you care about is head count, the team is not in uncharted waters here, but from a
business perspective, they're doing just fine.  The fact is that last year's Mets team didn't do a ton to inspire big gate in the early going this year. It happens.
If they play well as the season goes on, things will tick up.  If they don't, it won't.  It's the oldest story in the business of sports.