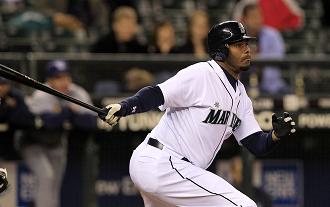 Ken Griffey Jr.'s agent took to the media yesterday to fight back on the sleeping story that, at least from where I'm sitting, people had already started to forget. But hey, agents fight for their guy whenever possible, so what say you Mr. Goldberg:
Ken Griffey Jr's agent says the napping story was
accidentally published before the story was ready.

Brian Goldberg told KIRO Radio Thursday, Tacoma News
Tribune writer Larry LaRue was investigating Griffey's
performance with the Mariners, but accidentally published
his blog posting before completing the story.

According to Goldberg, LaRue felt horrible for prematurely
making the story public before consulting with Griffey and
Mariners Manager Don Wakamatsu. LaRue immediately called
the newspaper after realizing his mistake to try to
retract the story.

Goldberg said the newspaper declined LaRue's request. He
said LaRue wrote a retraction, but the editors at the TNT
told him "No, we need to cover this up. We can't look
foolish."
Which, if true, is a pretty damning indictment of the Tacoma News-Tribune.  Unfortunately for Goldberg, the Tacoma News-Tribune is saying that Goldberg's account is completely bogus.
To the contrary, the N-T's sports editor, Darrin Beene, says that before telling this tale to KIRO radio yesterday, Griffey's agent called him on Wednesday, "basically threatening to go public with
his 'information.'"  Beene's response: "I told him to go ahead, because what we have
published on the blog and in print remains solid."  Tellingly, Beene says he asked Griffey's agent if there was any doubt about Griffey sleeping in a chair in the clubhouse during the 7th inning of the game, and the agent would not answer the question.
Beene goes on to refute the agent's story point-by-point. Considering (a) the agent's story is all about the inner-workings of the News-Tribune's editorial process, which he is in no position to know anything about; and (b) the agent has every reason in the world to give this a positive spin from Griffey's perspective, I see no reason why anyone should believe him over the newspaper. (UPDATE: see below; I was just reminded of one thing that Goldberg's story has going for it).
Look, I'm not going to go to the mat over LaRue's original story. It wasn't exactly the finest act of journalism in history, if for no other reason than, as his editor admits, LaRue didn't try to get any comment from Griffey before he posted it on the blog.
But that's an issue of fairness, not basic accuracy, and it's quite telling that for all of the noise we've heard on it this week, no one will deny that Griffey was asleep at some point during the game before Rob Johnson was used to pinch hit in the eighth inning.  LaRue's editor says he knows the source of the story, and the paper is standing by their reporter, which is by no means a given in this day and age. If it was b.s. they'd throw LaRue over the side.  I'm inclined to believe that he got the facts right, even if he could have done more to give Griffey a chance to defend himself.
As for this latest development: it  seems like a hamfisted attempt by Griffey's agent to do some damage control, and on the merits alone it fails miserably. And even if not on the merits, than by virtue of the fact that he has once again thrust it out into the fore when it seemed to be dying on its own.
Which is fine for me, because part of my business is writing about media kerfuffles like this one. But it's bad for his client who, as a result of this whole mess, has been the subject of countless "Ken Griffey Jr. is washed up" articles this week, and those are far more damning than when he does or does not take his naps.
UPDATE:  Just after I posted this, Aaron reminded me of one fact that could possibly give Goldberg's story some credence. Soon after the story first went live on Monday, the link broke. For a good while — around a half hour when I started clicking it — you couldn't get to the post.  Then it was posted again with a different URL.  Based on conversations I've had with people who read the initial post, the substance was the same. Certainly everything that led to the controversy was and remains in LaRue's post on the subject.
It's possible, is it not, that the post was accidental, that it got pulled back, and then the newspaper decided "aw, screw it, people have seen it already" and let it fly later?  If so, that would square with Goldberg's account of the mechanics of it all. Though, notably, he did not site the deal URL as evidence for his position in the KIRO story.
The biggest problem with this, however, is what would the newspaper possibly have to gain by pulling back an accidental post, only to go with the same substance a few minutes later?  If the story was wrong, why on Earth wouldn't they change it to be right when given the chance (or since then, for that matter)?  For what reason would they stick their necks out on a bad story like this when it could so easily be stricken or corrected? Again, if LaRue truly screwed it up, why would the paper protect him in such a complicated conspiracy like Goldberg suggests it is?
I think the answer is the same as the one I gave above: the story is accurate. If the the little URL hiccup is evidence of the paper having second thoughts, it may have been over LaRue not having talked to Griffey yet. Or it may have been for some technical reason. Or it may have been for any number of other reasons (I take stuff down several times a week because I misfired on the time stamp or something and I want to relaunch the post later). The fact is, the same story ran both before and after the URL changed.
Anyway, despite whatever distinctions one can make about fairness and accuracy, I'm personally obligated to be fair, and adding this URL business is necessary, I think, to the overall fairness of the thing.