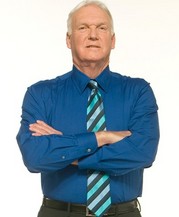 UPDATE: Martin Frank of the News Journal has some quotes from the Phillies' skipper:
"I shouldn't have said a word, but I didn't say anything about
Colorado or anything about them crying," Manuel said. "If I did
something, I'll definitely talk to [Tracy]. I didn't say anything about
that particular game.

"Usually, I say we'll take care of that by beating them. I'll let
Louisville [the Phillies' bats] talk to them."
8:15 PM: Before Friday's game against the Brewers, Phillies manager Charlie Manuel told reporters that he shouldn't have said anything about this week's sign-stealing allegations by the Rockies.
As you recall, earlier in the week Manuel told the teams who have accused the Phillies of such shenanigans to "keep crying," something that offended Rockies manager Jim Tracy.
Well, now Manuel says that comment wasn't directed specifically at the Rockies. He even said he would be willing to talk to Tracy directly about the incident. Good man. 
Manuel's harshest words were left for the Mets the other day — all but accusing them of stealing signs at Citi Field in the process — so I'm going to assume he was simply directing his frustration towards his favorite division rival. Oh well. Anything to keep this rivalry fun.