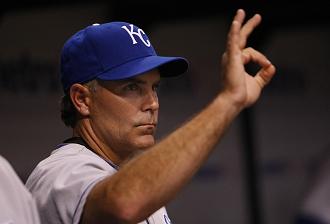 Royals 6, Indians 4: Look on the bright side, Trey: not many managers can say they went out a winner.
Marlins 2, Mets 1: Johan Santana and Josh Johnson each went seven innings allowing a single run. I'm going to assume that Fernando Nieve's pitch in the dirt that allowed the winning run to score was a function of overuse making it impossible for him to simply throw a ball sixty feet any longer.
Padres 1, Giants 0: Work fast? Check. Change speeds? Check. Throw strikes? Check.  Mat Latos follows Ray Miller's rules to the letter, one-hitting the Giants in a cool two hours and five minutes. He singled in the game's only run too. Oh, and that one hit he gave up? Infield single that bounced off his glove, and they almost got the runner anyway.
Rangers 2, Athletics 1: Two balks were called on the Rangers by home plate umpire Bob Davidson. The second one was ticky tack according to Ron Washington: "That was Balkin' Bob back there. That's all I can tell you."  Maybe its his rehab or something, but I like the new, 100% honest Ron Washington.  If he and Charlie Manuel got a film crew and went on a cross country tour together during which they basically just talk about stuff I'd watch that every week.
Astros 4, Cardinals 1:  Getting swept by Houston isn't going to go on the postseason highlight reel, that's for sure. Chris Carpenter and Carlos Lee jawed at each other after Lee popped out in the third inning. It was ostensibly about yelling or emotions or something, but I'll be damned if I can figure it out.  All I can figure is that there was some unwritten rules violation or another involved. Really, baseball is becoming as complicated as Byzantine tax law or Bolero dancing or something these days.
Tigers 6, Yankees 0: Just about every game yesterday had "getaway day" written all over it, this one included. Sure, most of these teams did actually have flights waiting for them, but they were charters. It's not like anyone had to play as though they were in such a hurry.
Nationals 14, Rockies 6: The Rockies bullpen is lucky they called this one after eight innings, because there is a limit to how much embarrassment anyone can take. Ryan Zimmerman hit two homers and drove in six.  That was nice and all, but they probably shouldn't have been playing this one in the first place. The rain was just too hard, the basepaths became filled with puddles and someone could have gotten hurt.
Orioles 6, Mariners 5: King Felix handed Brandon League a 5-1 lead in the eighth inning, but
League frittered it away via a leadoff homer to Corey Patterson — Corey
Patterson?! — yes, Corey Patterson, a bunch of base runners and then a
grand slam to Luke Scott. Mike Sweeney homered, and then he threatened all of his teammates into giving him high fives in the dugout.
Oh, and in case you're curious, I've lifted the ban on using the Mariners' name because, according to the Seattle Post-Intelligencer, Larry LaRue was allowed to stand in the reporters' scrum in the locker room after this game. Maybe Mike Sweeney is still shunning him — no quotes from him about his homer in LaRue's story — but apparently some players have decided to get on with their lives. No reason for me not to do the same.