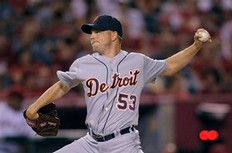 As the season goes on and teams get more desperate, the prospect of signing Jarrod Washburn to shore up the shaky rotation becomes less and less laughable.  But according to Jon Paul Morosi, don't count on J-Wash (like that? I just came up with it!) coming to your hometown nine in 2010:
When asked by FOXSports.com if he still plans to pitch this year, he
said via e-mail Thursday: "Never say never, but I am very happy at home
with my family."
Washburn was 9-9 with a 3.78 ERA last
season, but he posted a 7.33 ERA after being traded to Detroit. Between the second-half swoon, the apparent domestic bliss, and the almost complete lack of interest in him on the part of any team, he's kind of like the pitching version of Jermaine Dye.