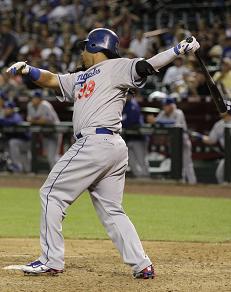 I missed this in the recaps, but file this under "wow, that wouldn't have happened a year or two ago."
In the seventh inning of the Dodgers-Diamondbacks game, A.J. Hinch decided to
intentionally walk Andre Ethier with two men on in order to load the bases for Manny Ramirez. And it wasn't like they were setting up the double play. There were two outs. Ramirez, of course, promptly hit a three-run double off the wall, turning a one-run game into a four-run game, and essentially icing it for L.A.  And, as Vin Scully notes in the video, Manny's shot would have been a grand slam in just about any other park.
I know Andre Ethier leads the N.L. in everything at the moment, but I think we've reached a point where we've discounted Manny Ramirez a bit too much.  He's at .393/.507/.589 on the year.
L.A. has a lot of problems, but they're only 4.5 out.  If 2010 Manny does a reasonable approximation of 2008 Manny, the Dodgers may jump back into this thing yet.
(thanks to Mike Bogen for the heads up on the IBB)