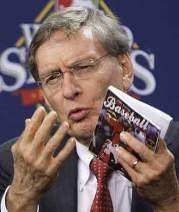 Commissioner Bud Selig has been named the first recipient of Taylor's Award,
presented by the Taylor Hooton Foundation to "an individual who has made a
major impact on efforts to educate and protect American youth from the
dangers of using performance-enhancing drugs."
Couple thoughts:
1. Great for Bud! You've come a long way, baby!  Ten years ago he didn't even know what a steroid was, and now he's the bestest steroid fighter in all the land!
2. Major League Baseball is listed first under the "corporate sponsors" page on The Taylor Hooton Foundation website. In fact, MLB is a founding sponsor of the foundation, having given it a million bucks to get off the ground back in 2005. You know, back when baseball was freaking out over the fact that everyone realized that it didnt' care about PEDs. Baseball continues to be a major funding source, of course.  I'm sure this is totally unrelated to the bestowing of the award, however.
3.  The Chairman of the Board of the Taylor Hooton foundation is Dr. Gary Wadler. You know Dr. Gary Wadler. He's the World Anti-Doping Ageny chief who likes to kick baseball's butt all over the place every time a new PED test comes out or some new testing procedure is announced.
There's something circular about all of this, isn't there?  WADA and the Taylor Hooton Foundation need baseball as a funding source and/or a target and Baseball needs the Taylor Hooton Foundation as a means of validation of its steroids policies.  Of course they're going to give Selig an award to cement the relationship. If they didn't, people might start to actually wonder what each party really does for the other, and that would be awful.
Not that this is unique to the sports/steroids world. I can't tell you the number of boards, non-profits and charities to which I've been privy that have similarly symbiotic relationships with the corporations or governments they purport to bird-dog. They often exchange awards like this, usually in the course of banquets in which donors are shown what their money is getting them and the recipients are given a nice experience about which they can write in their next newsletter or annual report under headings like "accomplishments" or "community involvement."
The only bad thing about it all — aside from the banquet chicken, which is always rubbery and cold — is if someone actually takes it seriously. Which I'm not, not should you. Because tomorrow baseball is going to go back to the same PED policies it has had for a few years now, tomorrow Gary Wadler and his people are going to go back to talking about how horrible those policies are, and all anyone will have gained out of this experience is a little P.R. and a dinner that tastes almost, but not entirely, unlike chicken.