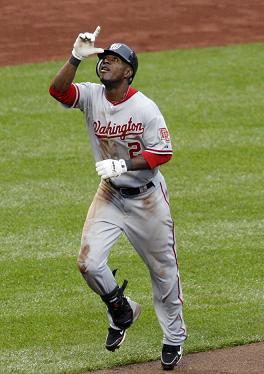 Nationals
6, Mets 4: Roger Bernadina was 3 for 5 with two homers — including
the game-winner — and had a
sweet grab in right field. And did Rob Dibble really say — in
dialect — "that boy's good!" after his ninth inning homer?  Why yes, he
did. Oy.
Blue Jays 3, Red Sox 2: Tim Wakefield's knuckler was dancing all day, but it took a bad step in front of Travis Snider's bat in the seventh. Shaun Marcum, in contrast, made almost no mistakes, allowing only two hits and shutting out the Sox over seven. Worth noting, even in a loss: David Ortiz has hit in five straight and is hitting.310 with three home runs in May.  Still striking out too much and not walking enough, but it's something.
Rockies 4, Phillies 3: Miguel Olivo caps off a 5 for 5 day with a walkoff homer in the bottom of the tenth. Melvin Mora left the game with a strained butt.  Really. Indeed, it would be wholly accurate to say that Mora is day-to-day with an ass.
Twins 3, White Sox 2: I don't care if the Twins won. This was a pretty sweet catch.
Cubs 4, Marlins 3: Carlos Silva at 4-0 is but a half-step down on the improbability scale from Ugly Kid Joe coming out with a hit single and selling out arenas.
Tigers 2, Yankees 0:  At least no one can blame this one on Javy Vazquez (7 IP, 5 H, 2 ER, 7K). Or can they?
Yankees 8, Tigers 0: Phil Hughes was sharp once again and the Tigers wasted Jeremy Bonderman's best start of the season. Well, maybe wasted is too strong a word — he stood to be the loser even when he left — but that six-spot the bullpen allowed in the ninth inning was pretty dispiriting all the same.
Braves 9, Brewers 2: Another bullpen catastrophe for the Brewers as Manny Parra and Carlos Villanueva each give up two runs in one inning of work and Trevor Hoffman allows three, raising his ERA to 12.00 on the season.  For the Braves, Eric Hinske may be winning the left field job, as he had his second multi-hit game in a row. Of course, the way the Brewers pitching has been going, this series sweep may not have provided a true read of any Braves hitter's ability.
Reds 5, Pirates 0:  Handled this one yesterday afternoon.  Between this ugly and lifeless shutout and the Penguins' Game-7 loss to the eighth-seeded Habs, yesterday may have been the worst day in Pittsburgh sports since Sid Bream slid home safe.  We now return this blog to another three years of ignoring hockey.
Rays 4, Angels 3: Usually when one team has a starter strike out 12 guys and the other team has to use six pitchers, the 12-strikeout guy's team wins. Not so yesterday, as David Price and five Rays relievers beat Jered Weaver's 12 Ks in seven innings. The Rays scored twice on passed balls charged to Angels' catcher Ryan Budde. Scioscia ought to just pencil his own name into the lineup for day games after night games.
Orioles 5, ______ 2: Brad Bergesen pitched seven and two-thirds innings of one run ball as the Orioles win.  I will not name or talk about the O's opponent in these recaps until they stop being jackasses and cease their juvenile blackballing of reporter Larry LaRue.
Astros 9, Cardinals 6: Kyle Lohse was on duty when the Astros scored all nine of their runs, but he was only charged with four. This says far more about the randomness of the earned run rule than it does about Loshe's performance, because he was hit pretty hard, pretty often.
Rangers 10, Athletics 1: Remember that thing I said in the power rankings the other day? About
how the Rangers had been playing with one hand tied behind their back? 
Yeah, this is what I was talking about.Derek Holland struck out seven in six shutout innings in his first start of the season. The offense let loose. It's not going to take much for a team to separate itself from the pack in the AL West this year. Perhaps the Rangers are doing it.
Padres 5, Giants 2: That sound you hear is the sound of people coming to grips with the fact of how for real this Padres team is. They're now 5-0 against the Giants this year, the only team in the west who looks poised to put up much of a fight. I'm struggling to think of a team that, in the preseason, looked so bad but once the bell rung looked so good.
Dodgers 6, Diamondbacks 3: Hiroki Kuroda returned to the park where the comebacker smacked him in the head last year and, despite a leadoff walk he chalked up to nerves, cruised, striking out nine and giving up three runs in seven and a third.  Manny Ramirez had three RBI. I'm almost ashamed to admit that I hadn't even realized that he had returned from the DL. If you can't depend on ridiculous Manny hype in this world, what can you depend on?
Phillies vs. Rockies (game 2): Postponed: The sky was dark and gloomy, the air was damp and raw, the streets were
wet and sloppy. The smoke hung sluggishly above the chimney-tops as if
it lacked the courage to rise, and the rain came slowly and doggedly
down, as if it had not even the spirit to pour.
Indians 4, Royals 0: Multiple rain delays, so for a while I thought this one was going to be postponed. I even picked out a rain quote before I went to bed and everything: "Up the two terrace flights of steps the rain ran wildly, and beat at the
great door, like a swift messenger rousing those within."  That's from A Tale of Two Cities. As entertainments go, it's far more engaging than a Royals-Indians tilt that stretches late into a Wednesday night and Thursday morning. Um, of course, I watched a lot of the Indians-Royals tilt and relied on Cliff's Notes for a A Tale of Two Cities back in the day, so what does that say about me?