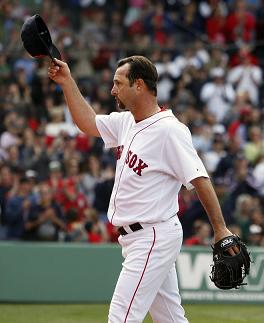 Actually, it's probably more like his, I dunno, 900th batter, because you figure he's gotten a lot of them more than once:
Not only did Tim Wakefield get a spot a start on Wednesday, but he
notched a milestone along the way. When he struck out Blue Jays center
fielder Vernon on — what else? — a knuckleball, it was No. 2,000 in
his career. The 43-year-old Wakefield is the fourth active pitcher to have 2,000
strikeouts. The others are Jamie Moyer (Phillies), Andy Pettitte and
Javier Vazquez of the Yankees.
I like how the MLB.com story only refers to his 2000th victim as "Vernon." Wouldn't it be cool if we started doing the one-name thing in baseball like they do in soccer? Wait, no it wouldn't. Too many Jasons and Johns. Too boring.  I'd be all for doing it with Ubaldo, however, because that really works.
As for Wakefield, knuckleballers rule and long may his flutterball fly.