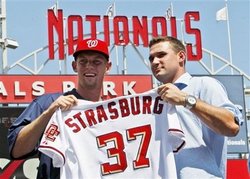 Nationals prospect Stephen Strasburg, now stationed at Triple-A Syracuse, threw six innings of no-hit ball on Wednesday night against the Triple-A Norfolk Tides.  He allowed just one walk and struck out seven batters before reaching his pitch limit of 80.  (Well, actually 79).
Not bad.  Not bad at all.  Strasburg, 21, has now fired 12 scoreless innings and has surrendered only one hit in his two starts at the Triple-A level. 
The phenom posted a 1.64 ERA, a 0.86 WHIP and a 27/6 K/BB ratio in five starts for Double-A Harrisburg before earning a promotion to Syracuse last week.  There's no doubt that he's ready for big league competition, but the Nats will wait until early June to call him up, ensuring that he doesn't reach Super Two status.