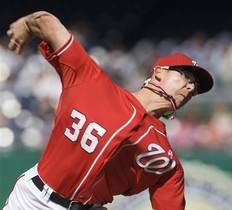 The season is one-fifth over, yet a reliever leads the majors in victories. More than that, it's a Nationals reliever. Tyler Clippard improved to 7-1 after pitching a perfect eighth in a tie game against the Mets on Wednesday. The Nationals scored twice in the top of the ninth and won 6-4, giving Clippard the decision.
Clippard's win today was change from his most recent three, all of which came after he blew leads. However, that's pretty deceiving, since he was charged with just one run in those three games. Inherited runners have come around to score off him, but he's justified a lofty record by amassing a 1.80 ERA in 25 innings this season. Three of the five runs he's allowed came in his lone loss Tuesday night against the Mets.
Clippard currently leads the majors with his 25 innings in relief and he's second to Carlos Marmol among relievers with 30 strikeouts. It remains to be seen how he'll hold up while being ridden like this, but he's been a key component in the Nationals' surprising start.