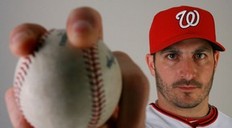 Jason Marquis' DL stint was a the result of "floating bodies" in his elbow. Apparently they're still floating, because MLB.com's Bill Ladson is reporting that Marquis will most likely have surgery to remove bone chips
and spurs and will be down 8-10 weeks.
This is good news for a Nats' rotation that, in all honesty, doesn't need him.  This is bad news for the Nats' business people, who are now becoming fully aware that they would have been better off simply flushing $15 million down the terlet than giving it to Marquis.
I mean, at least if the Nats flushed it down the terlet they wouldn't have to pay the medical bills and the direct deposit courtesy fees and everything.