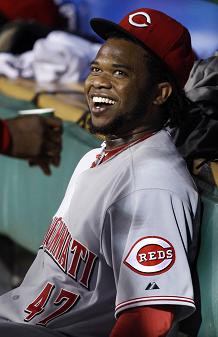 Reds 9, Pirates 0: Johnny Cueto tosses a one-hitter. He was one single and one HBP away from a perfect game, but the fact that he hit the same guy who got the single — Ronny Cedeno — probably made him feel better.
Red Sox 6, Blue Jays 1: Who are you, Mr. hard-throwing, efficient pitcher, and what have you done with Daisuke Matsuzaka?! (7 IP, 3 H, 1 ER, 0 BB, 9K, 106 pitches).
Mariners 5, Orioles 1: More controversy: Larry LaRue reports that Don Wakumatsu wanted to use Mike Sweeney to pinch hit in the seventh inning, but he was found raging in the clubhouse.
Marlins 3, Cubs 2: The Cubs have now lost four in a row and seven of eight. Another error for Starlin Castro.
Mets 8, Nationals 6: The Nats had a 6-2 lead entering the eighth when the wheels fell off thanks to the bullpen. Newly called-up Chris Carter hit a clutch two-run double for the Mets and David Wright and Jason Bay each had three hits. Ike Davis had another one of those pretty swell catches in which he leans over the dugout railing. Frankly, I'm beginning to think that he's just showing off. Kind of like Ric Flair doing that little flip up and over the turnbuckle thing. Except Davis sells his move better.
White Sox 5, Twins 2: The Sox did all of their damage in the fifth inning. And hey, look who got the save! Why, it's Bobby Jenks, who was supposed to have been demoted or forgotten about or whatever. Just the latest example of one of baseball's most important maxims: don't ever listen to what Ozzie Guillen says unless he's just sort of pontificating about stuff that doesn't relate directly to him in which case you really should listen because that dude is totally raw and totally hilarious, brother.
Indians 8, Royals 2: Two homers for Russell Branyan. Trey Hillman was ejected in the seventh inning for arguing a play at third, thereby requiring him to retire to the clubhouse and watch the remainder of the game on a video monitor. Hey Trey: get used to watching Royals games on TV.
Astros 6, Cardinals 3: Jason Motte is like an offensive lineman in that you only notice him when he screws up. We all remember that blowski against the Reds back on April 8th because it was, like, the only day game everyone was paying attention to that afternoon. We recognize this performance — homers given up to both Berkman and Pence — because it was also notably awful. We missed the mostly admirable work he did in between, however. Motte had gotten his ERA down to 1.69 as recently as a week ago. He got lit up last night. It happens.
Braves 11, Brewers 3: Troy Glaus and Eric Hinske each had three RBI and the Braves had their first laugher of a win all season. Dave Bush wasn't horrible for the Brewers, but the pen was.
Athletics 7, Rangers 6: Daric Barton homered in the 11th and hit the winning RBI single in the 13th, as the A's win a wild one. Andrew Bailey and Neftali Feliz blew saves. Pinch runners were thrown out at the plate, Eric Chavez hit a homer. Really, nothing in this game was particularly ordinary.
Rays 7, Angels 2: Scott Kazmir is Tampa Bay's career leader in wins, starts, innings, and
strikeouts. He faced the Rays for the first time last night and they made it clear to him that he is of a different era in team history (5 IP, 7 H, 3 ER, 3 BB, 2K.)
Dodgers 13, Diamondbacks 3: Lots of runs and stuff for L.A., but the thing that jumps out at me the most is the fact that Dan Haren had ten strikeouts in six and a third innings, but also gave up ten hits. there's a combination you don't see every day.
Padres 3, Giants 2: Barry Zito was lost, walking seven guys and giving up six hits. It's a wonder the Padres didn't score more off him.
Phillies vs. Rockies: Half a mile from the county fair and the rain keep pourin down.
Yankees vs. Tigers: Oh, the water. Hope it don't rain all day.