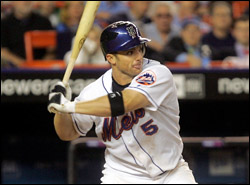 David Wright is struggling lately, and this morning we have two competing explanations for it.  First is Tim Smith of the Daily News:
Wright won't admit it, but Citi Field has gotten inside his head and he
can't shake it. If a park can haunt a baseball player, then Citi Field
is haunting Wright. How else to explain how it has shrunk Wright's power
since the move over from Shea?
Clearly, he is not comfortable at the plate; scouts are noticing that he
is flinching at breaking pitches, a tendency that they believe started
after Wright was beaned last summer in a game against the Giants.
To illustrate, Olney posts Wright's pre-beaning stats from last year and his post-beaning stats through last night.  The difference is stark.  .324 average and eight homers in the 426 at bats before the beaning, .253 and nine homers in the 217 at bats since.  Power up, but contact and strikeout rates way, way down.
I suppose those explanations aren't mutually-exclusive, but I've always been far less impressed with the "David Wright is spooked by Citi Field" line of reasoning. Ballplayers play in all kinds of parks as they come up through the ranks, and Wright has never been some home-run-or-die kind of hitter anyway.  If anything, he strikes me as the kind of player who would lament some lost homers but be happy with the extra doubles to the gap. In contrast, if scouts are seeing Wright flinch on breaking pitches it would definitely explain a lot.
Of course a third explanation seems like the most prudent one, at least for now:  he's simply in a mini-slump.  Despite the recent wave of strikeouts, the guy is hitting .277/.403/.527 with seven homers on the year. That paces-out to a 36 homer, 114 RBI season.  The homers would represent a career high.  The .928 OPS he's currently sporting would be the second best of his career if it lasted all season.
Could it be . . . nah, forget I even considered it. No one ever overreacts when it comes to the performance of a big-name New York player . . .