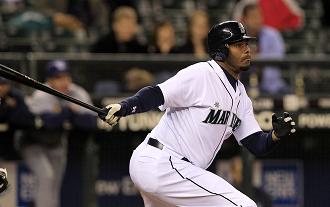 OK, now a more serious note about the Mariners' team meeting. Ken Rosenthal is in Baltimore and is talking to Mariners' players. Here's Mike Sweeney:

"We will support and fight and take a bullet for
Ken Griffey Jr. if we have to. He's our teammate . . . Nothing is going to divide this clubhouse,
especially a makeshift article made up of lies."
Sweeney went on:
"We don't think there are two players who said that (about Griffey sleeping). I challenged everyone in that room — if they said that — to stand up and fight me. No one stood up.
So Mike Sweeney has either (a) accused Larry LaRue of the Tacoma News-Tribune of making up a story; or (b) has decided that browbeating and intimidating his teammates into agreeing with him that it never happened is the best way to make the story go away.
Not exactly the coming-together moment I would have expected after all of this, but hey, it's their team. If they want to create their own reality, let them do it.  Personally, if it were my team, I'd try to make this a teaching moment to the young players about keeping dirty laundry in-house instead of telling reporters about it and have everyone leave the meeting talking about the past being the past, how it's nobody's business and about how all that matters now is baseball.
But make no mistake: If what Sweeney says happened in that team meeting really happened, the Mariners are now less a baseball team than they are Ken Griffey's P.R. firm.
UPDATE:  Here's a story describing Griffey's response when asked point blank if he was sleeping in the clubhouse. There was an initial forceful denial, but it was followed up with what sounds like some serious equivocation to me. Obviously you can judge it for yourself, however.
My thoughts on the ultimate truth here: why on Earth would two players make up a story about all of this. Alternatively, why would a reporter make it up?
Whatever the answers are to those questions, I think the way the team appears to have handled the aftermath is pretty poor.