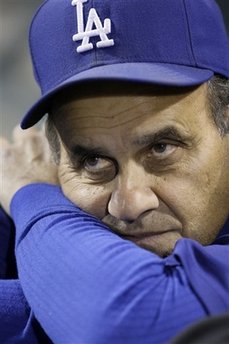 Ken Rosenthal reported in his latest video cast that "friends of Joe Torre doubt he would
tolerate another year of the Dodgers' penny-pinching circus" and that, as a result he's looking for a way out of L.A.
That report was shot down by Torre himself yesterday, saying "obviously they're no friends of mine."  Still, he's rather non-committal about coming back to L.A. for 2011, saying "It's going to be me and how I feel toward the end of the year . . . Do I want to do this again?"  Torre went on to say that it's highly unlikely, at 70 years of age, that he'd go work for some other team, regardless of what happens in L.A.
That's not good enough for Buster Olney, who decided to start some Torre to the Mets chatter this morning:
This is in keeping with how Torre has handled his contract situations
for about a decade-and-a-half — he talks about the unlikelihood of
working in any place other than where he is located, he mentions
possible retirement, and he leaves his options open. And one
option that would make a lot of sense for Torre if he leaves the Dodgers
— and there is a sense among some who know him that he is very
frustrated with the team's ownership situation — would be a reunion
with the Mets, if they're looking for a new manager after this season.
The rationale: The Mets will spend money, Torre won't mind not being in on the big decisions, which he wouldn't be in Wilpon-land, and of course, Torre is a New York guy, so why not make some money back in the town to which he's probably going to move back when he's done in L.A. regardless?
I guess stranger things have happened, but why would the Mets be interested in bringing in a 70 year-old to take over the team?  The name of the manager and the column inches devoted to the team don't sell tickets, winning ballclubs do. Torre's famous. Big whoop.
A Torre-to-the-Mets move would be like Casey Stengel all over again, and not just by virtue of the manager's age.  Torre taking over the Mets assumes that the 2010 Mets crater. I mean, if you haven't noticed, the team is actually doing pretty well right now, and if they keep it up, it's highly unlikely that they'd even have a managerial opening next winter.
For there to be an opening, it seems like the Mets would have to utterly crater, and if the team utterly craters, you have to figure that they would start to clean house and go with youth. Is that really what Joe Torre is best suited for at this point in his career?
I think not, and thus I think anyone talking about Torre taking over as the Mets manager is dreaming.