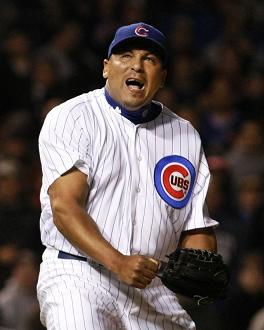 And here we thought being in the best shape of his life would make a big difference.  Here's the great Fergie Jenkings on the Cubs' highly-paid mopup man:
"The guy I thought was going to be a winner was Carlos Zambrano,"
Jenkins said. "But he just can't get it together." The reason, Jenkins speculated, was Zambrano's offseason weight loss.

"Zambrano was always a guy who was pretty big. (Now) his fastball is
like my changeup. He doesn't have the same movement. I think he took
away a big part of his ability by (dropping 30 pounds)."
Maybe. As I've written in the past, Zambrano is one of those guys who always looks kinda tired on the mound. Even when he was racking up innings pitched a couple of years ago, he always looked kinda sweaty and tired and like someone who could stand to lose that weight.
But I'm not going to lay it all on the line arguing with a guy like Fergie Jenkins about pitching, because he's obviously forgotten more than any of us will ever know about it.  And I'll offer that having extra weight hasn't hurt guys like Sabathia and David Wells and any number of other portly pitchers.  A big, um, foundation can kind of help.
But who knows? Zambrano's problems have always been more in his head than on his waistline, so I'm still hesitant to agree with Jenkins too. Especially considering that, as is obvious in the above photo, it's not like Zambrano is wasting away or anything. He lost some bloat, but he's still a big due. Likely bigger than he was when he came up and was throwing fire.
I do know that Zambrano has had an awful lot of free time down in the Cubs' bullpen lately, having thrown seven innings in the over two weeks since he was relieved of his starting duties.  Maybe he should take Jenkins' advice to heart and start eating Ho-Hos and hot dogs and stuff down there and see if he can't regain that winning form.