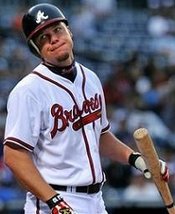 Last year Chipper Jones threatened to retire before his contract ran out if he didn't bounce back from his bad 2009.  So far this season he's hitting 230/.402/.368 with two homers.  He says that's good enough for him, however, and that he's no longer considering hanging it up before 2012.
What's convincing him: his walk rate. He's tied for the league lead in walks and has a good on base percentage, and he says that "when I'm drawing walks you know I'm seeing the ball good."  He made a reference to his RBI totals being a function of not having a lot of people on base in front of him. He's right about that, of course.
Still, the lack of power is a concern for me. As is, you may be surprised to hear, the batting average.  Yes, OBP is more important, but if he doesn't start showing that he can actually do something with balls in the strike zone, pitchers will throw away old scouting reports about not giving him anything good to hit and will start challenging him more.  Based on what I've seen so far this season, I'm not completely optimistic that he can make them pay if they do.
Still, it's nice to see the confidence, and the fact that Jason Heyward is back in the lineup tonight and is hitting second (second?! Yes, second) is reason enough for temporary optimism about Chipper Jones' production.