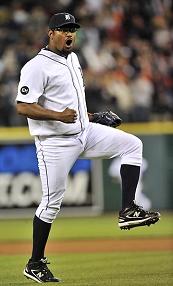 People have groused about Joba Chamberlain and Jonathan Papelbon's post-strikeout and post-save fist pumps and histrionics for years now, but it's time to add someone else to that list: Jose Valverde.  Check out his display from last night's Yankees-Tigers game, which the good people at MLB.com have so helpfully put on a single, 43 second reel.
Of course, this is not new behavior from Valverde. He's been doing this for years. Just not on national television against teams like the Yankees.  When you dance after a strikeout in Houston, you're just local color. When you do it against the Bombers: big issue. At least if the multiple references to it in the blogosphere this morning are any guide.
I view this as basically the same thing as touchdown celebrations. If it's actual exuberance — which is what I think that Papelbon, Chamberlain and even Valverde are displaying — who cares? Silly, sure, but not an offense against nature.  If it's more choreographed and premeditated it's kinda bush league.