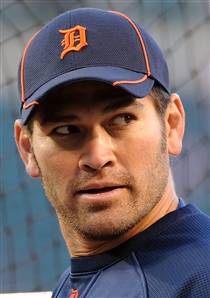 It's reunion time in Detroit as the New York Yankees come to town to take on the Tigers. And this means the Yankees get a chance to see Johnny Damon and show him how little they miss him.
OK, so that's a bit harsh, but at 21-9, New York is cruising right along. Remember the hand wringing when the Bronx Bombers decided to save their Damon money and go with Brett Gardner/Marcus Thames/Randy Winn in left field? Yeah, that was all for a whole lot of nothing wasn't it?
The Yankees and Tigers already met up in spring training, but the contests in this four-game series count, so I doubt we'll see any applause from A-Rod this time around.
Damon, who played a huge role in the Yankees' championship run last season, is having a fine year so for in Detroit, hitting .302/.409/.443 with 22 runs and 14 RBIs as the Tigers sit at 17-14.
Curtis Granderson, the former Tiger acquired by the Yankees in the offseason, will reluctantly miss the trip as he works to heal from a strained groin.
"I was looking forward to seeing friends and teammates that I haven't talked to over there," Granderson said. "I've got to stay back and get better. I probably wouldn't have been able to do anything; I'd still be inside getting treatment."
In addition to a reunion with Damon, the Yankees will get a nice up-close look at Austin Jackson, the player they sent to Detroit in the Granderson deal. Jackson is hitting .370 with nine doubles, three triples and a home run in 29 games for the Tigers.
FIVE SERIES TO WATCH
Nationals at Mets, May 10-12: Believe it or not, this is a good matchup in the standings, as both teams are 17-14, two games behind the NL East-leading Phillies. Enjoy it while you can, fellas.
A's at Rangers, May 11-13: Where are the Angels and Mariners? Battling it out for cellar space, that's where. These two are your top two AL West teams – at least for the moment – with  the Rangers (18-14) holding a slim lead over the A's (17-15). Both teams are getting some surprisingly good pitching.
Padres at Giants, May 11-13: Neither of these teams figured to have enough offense to compete this season, but that should only serve to teach us not to figure. San Diego (19-12) is tied for the second best record in the NL, with the Giants just a half-game behind.
Twins at Yankees, May 14-16: The Yankees can't go after Joe Mauer anymore, so they'll just try to be unfriendly hosts and steal some games over the weekend instead. These Twins, however, don't look like the same old team the Yankees always seem to beat up on in the playoffs.
Indians at Orioles, May 14-16: They can't all be Yankees-Red Sox, right? Both of these teams are pretty bad, but that could make for some entertaining viewing in itself. And if the game itself doesn't make you laugh, maybe the postgame show will.
ON THE TUBE
Monday, 7:05 p.m. ET: Yankees at Tigers (ESPN)
Wednesday, 7:05 p.m.: Yankees at Tigers (ESPN)
*Saturday, 4:10 p.m.: Phillies at Brewers (FOX)
*Saturday, 4:10 p.m.: Astros at Giants (FOX)
*Saturday, 4:10 p.m.: Mariners at Rays (FOX)
Sunday, 1:05 p.m.: Twins at Yankees (TBS)
Sunday, 8:05 p.m.: Phillies at Brewers (ESPN)
*Check local listings
And for those of you who have asked for a schedule of MLB Network games, you may find that here.
Are you on Twitter? You can follow Bob here, and get all your HBT updates here.