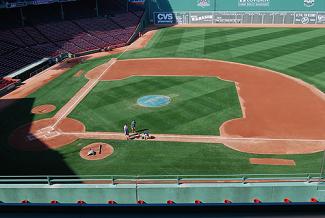 People were complaining about the Fenway Park infield when I was a kid. Heck, they were probably complaining about it when Jerry Remy and Glenn Hoffman were kids. Tall grass. Bad bounces. Gophers and stuff. Just all kinds of nastiness.
I figured that bit of charm had largely gone away, what with the meticulous makeover Fenway has seen over the years. But apparently that's not the case, as Nick Cafardo collects multiple quotes from Red Sox and Yankees players, all of whom preface or end their complaints by saying "not that you can really complain . . ."
On the list of things that bother me in baseball, this comes in somewhere below the fact that men don't wear straw boater hats to games anymore and somewhere above the fact that ketchup and relish gang up on mustard and cheat to win the Sugardale Hot Dog race during Columbus Clippers games at Huntington Park.  It's just one of them things.  In the case of the infield grass it's part of home field advantage and, though frustrating, it's no different than ballparks having different sight lines and wall configurations and all of that.
Will it ever change?  Maybe.  The Cubs did an overhaul of their notoriously awful infield grass before the 2009 season, and now it appears to play a lot smoother than it used to.  The Red Sox could do something like that if they wanted to.
My guess though: they won't, at least until they sign the next circa-2000 Alex Rodriguez who makes a point of demanding it. And given how long the Sox have gone without a big deal shortstop, don't hold your breath.