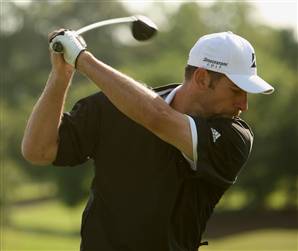 We learned last week that former pitching great John Smoltz was going to play in a local qualifier in hopes of advancing to play in one of golf's biggest tournaments: the U.S. Open.
Unfortunately, we find out today that Smoltz, despite carrying a 2-handicap, came up short. From the Atlanta Journal-Constitution:
He didn't embarrass himself, but didn't make it, either. His 6-over 76 was six shots away from contention. Smoltz didn't play poorly, but he failed to hit his approach shots close enough to give himself a chance to make birdies.

The real difference came on the greens, where Smoltz had trouble getting anything to drop. After missing a two-footer on his 11th hole, he quipped, "That's what happens when you don't putt gimmes." He later predicted a putter change, saying he'd probably make a call to the bullpen for one of the 25 different putters he owns.

Despite his putting woes, Smoltz showed he still had the ability to close the deal when he banged in a 20-footer to save par on the final hole, a conclusion that drew applause from the 100 or more who gathered there to watch.
His dream temporarily dashed, Smoltz will return to broadcasting games for MLB and the Turner Network, and presumably, since he has yet to retire, searching for a team. Smoltz has said he would like to play on the Champions Tour when he becomes eligible – by turning 50 – in 2017. With seven years to practice, and Smoltz's competitive fire, don't be surprised if it happens.
Are you on Twitter? You can follow Bob here, and get all your HBT updates here.