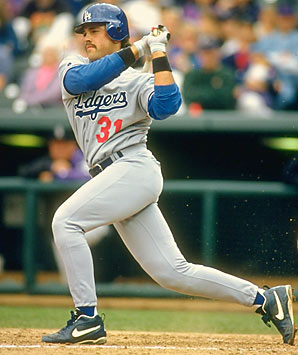 This question was inspired by Mr. Piazza's own comments in the New York Times over the weekend, in which he says he'd prefer to go in with a Mets cap:
The bulk of my career was with the Mets," he said, "and after going
through the trade, then the drama of 9/11. I'll never forget my Dodger
days. But my time with the Mets is what I'll remember most about my
career."
The idea, of course, is that the cap is supposed to to best reflect the player's history and place in the game, not personal preferences or remembrances, so Piazza's sentiments only take us so far.  But he's certainly right about one thing, and that's that raw stats and service time aren't determinative either. And they probably should not be.
My favorite example here is Reggie Jackson.  His best years, statistically speaking, came with the Athletics, where not only did he put up better individual numbers, but where — in a development that would probably surprise Yankees' fans of a more recent vintage — he also won more World Series rings than anyplace else. What's more — and this one stumped even me until I looked it up the other day — he had more plate appearances as a California Angel than he did as a Yankee.
But Jackson wears a Yankees cap on his Hall of Fame plaque, and really, I don't think there's any room to complain. His overall career got him into Cooperstown, but his exploits in a Yankees uniform — especially during the 1977 World Series — are what burned him into the nation's memory.  It would be weird to see Jackson in anything other than a Yankees cap, and I bet even most A's fans would admit it.
Which brings us to Piazza.  Statistically speaking he clearly had his best years with the Dodgers. He won the Rookie of the Year award in Dodger blue, and was way up there in the MVP voting during his time in L.A. as well. He won six Silver Slugger awards, and was a six time All-Star for the Dodgers, batted .326 while with the team and had his best season there too:  .362/.431/.638 with 40 homers and 124 RBI in 1997.
But how about the Mets? He played in New York one year longer, but was, individually speaking, less impressive in almost every season. He finished in the top ten in MVP voting twice, won five silver slugger awards, and was a seven time
All-Star. His best season for the Mets was 2000, when he hit .324/.398/614 with 38 homers and 113 RBI. Great career in orange and blue — the sort of which, were it his peak, would also make him an easy choice for the Hall of Fame — but those years were not quite as great as his Dodgers years.
But then there's the equalizer: the postseason.  Piazza played in eight postseason series, five of which were for the Mets. He really only had two good postseason series, but both were for the Mets in 2000, which gets Reggie Jackson points for being the Subway Series with the Roger Clemens bat-throwing incident and all of that. And of course, there's post 9/11/2001, which, as Piazza duly notes, added weight for everyone in a New York uniform.
Piazza might be the toughest Hall-of-Fame cap call there is. I've gone back and forth on this one many, many times and I'm dissatisfied with either answer.  Ultimately, though I'm going with this:  Unlike Jackson, Piazza's calling card is not the postseason. His Hall of Fame case comes down to him being the best hitting
catcher of all time, and he did his best hitting with the Dodgers.  That's enough for me, and that puts him in a Dodgers cap.
The comments are open for your objections.  Mets fans will almost certainly have a beef, and I'm not unsympathetic to them. Of course, if you want to go all-in on a Padres, Marlins or A's-cap argument, we'll leave the floor open for you as well.