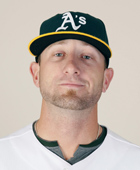 The only downside to Dallas Braden's perfect game yesterday is that we narrowly missed out on a chance to have him once again bring the 209 noise about respect and the unwritten rules and all of that jive.
The scene: fifth inning, nobody out, Evan Longoria at the plate. He attempts to reach on a drag bunt. Bunt goes foul, life goes on, Longoria ends up going down on strikes.
Braden kept his cool about it, but I can't help but think that he was seething inside about someone trying to break up his no-no with a bunt.  Not doing that sort of thing is one of the unwritten rules, you know.
Just ask Bob Brenly.  He was the Diamondbacks manager back in 2001 when Curt Schilling had a perfect game going against the Padres in the eighth inning. Padres catcher Ben Davis laid down — or rather, popped up — one of the uglier bunts you'll ever see, but the ball managed to elude second baseman Jay Bell just long enough for Davis to reach.  The Diamondbacks freaked out, with Brenly calling the move "chicken" after the game and saying "Ben
Davis is young and has a lot to learn. That was just uncalled for."
That set off a nice little controversy about whether it's kosher to break up a no-hitter with a bunt.  My memory has it that Brenly's position was a minority one and that at the time most people were of the view that an opposing team can and should do everything in its power to win the game. That game was 2-0 at the time and the Padres and Diamondbacks were tied for first place, so I was totally cool with the bunt attempt.
I haven't seen anyone complaining about Longoria's attempt yesterday, but it was 4-0 at the time, which I suppose makes it a tad less defensible. Of course, it was also earlier in the game, so that makes it a tad more defensible.
My guess is that even hardcore unwritten rules guys would have a tough time criticizing Longoria's bunt attempt. But the day is still young and, to my knowledge, no one has thrust a microphone into Bob Brenly's face about it yet.