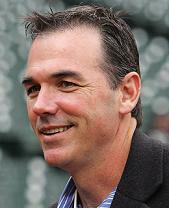 I didn't know that Dallas Braden had a perfect game going until the
eighth inning when I checked Twitter and saw everyone yammering about
it. But hey, I was busy with family stuff and was monitoring a bunch of
games yesterday afternoon, so I can be excused for only seeing the eighth and ninth innings. If I worked for the Athletics, of course, I'd have seen the whole thing.
Or, maybe I wouldn't have. Billy Beane is the team's GM and is a minority owner, so you'd figure that he'd see it all. You'd figure wrong, however, because he almost missed it.
Usually general managers watch games from the team box, but anyone who read Moneyball knows, Athletics' GM Billy Beane works out during the game, sometimes not even watching it. Ken Rosenthal reports that was basically the case yesterday, as Beane had the raw feed of the game on with no sound and no stats graphics as he listened to a soccer game on his iPod and ran on a treadmill. It wasn't until the ninth inning that he knew — after asking the guy on the treadmill next to him — that Braden had a perfect game.
Not that he was alone in not paying much attention.  Only 12,228 fans were in the seats at the Coliseum for the perfecto. Though if form holds for these kinds of things, a good 50-60,000 people will tell their friends they were there.