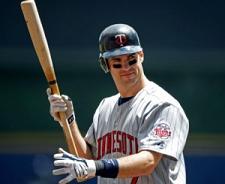 Big news for Twins fans.  According to Joe Christensen of the Minneapolis Star-Tribune, catcher Joe Mauer will return to the starting lineup on Sunday as the designated hitter.
Mauer has missed over a week with a bruised left heel, but is apparently unfazed by swinging a bat and was able to serve as a pinch-hitter on Saturday night.  It's not known when he will return full-time behind the plate, and the Twins should be in no hurry to force the issue because 22-year-old Wilson Ramos is playing so well.
Mauer, 27, will return to a .341/.402/.494 batting line.  He had 13 RBI and 10 extra-base hits in 84 at-bats before the injury and should have no trouble getting back on track.  The Twins currently stand 20-11, good enough for first place in the American League Central standings by 2.5 games over the Tigers.