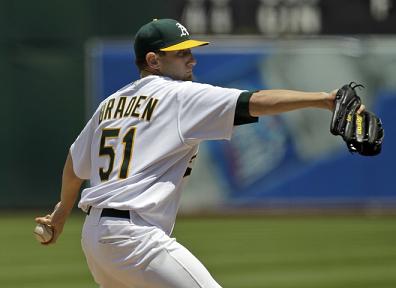 UPDATE:  He did it!! 27-up, 27-down, six via strikeout. The game ended on a Gabe Kapler grounder to short.  Dallas Braden has thrown a perfect game! Guess that's just how
they roll in the 209.
They also roll modestly. During his postgame interview with the Comcast SportsNet California announcers, Braden gave credit to his catcher Landon Powell and to his defenders. Braden said that he "could go to sleep out there," meaning that he had full trust in Powell to call the game, rarely shaking his catcher off.
It was the 19th perfect game in major league history. The last perfect
game — Mark Buehrle's — was also against Tampa Bay.
That sound you hear is all of the Yankees beat writers running over to A-Rod's locker in Boston, asking him what he thinks about Braden extending his 15 minutes of fame. 
Seems to me he's doin' just fine on his own.
6:10 PM: Dallas Braden has a perfect game going against the Rays through the eighth inning. 
One way to keep people off your mound?  Don't let 'em on the bases.