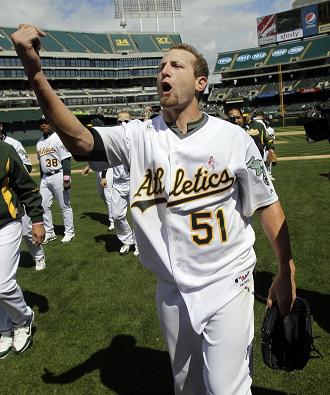 It was just over two weeks ago when Alex Rodriguez walked over Dallas Braden's mound — maybe on purpose, maybe not — kicking off a petty little feud in which no one has come off looking particularly classy.
Braden barked about it being "his mound" like he was unhinged. A-Rod looked like a pompous ass making reference to Braden's "handful of wins" after the game. Braden looked like a low-rent wannabe something or other with his "we don't do much talking in the 209" rebop last week.  A-Rod continued the pattern of classlessness just this weekend by claiming he didn't want to comment any further because he didn't want to extend Braden's "15 minutes of fame," clearly implying that Braden wouldn't have any basis for fame separate and apart from that which A-Rod gave him.
That's certainly not the case anymore. Braden is part of one of baseball's most exclusive fraternities, becoming one of the nineteen men in history to throw a perfect game.
A-Rod seems to sense that the narrative has shifted.  Reached by reporters at Fenway Park immediately after the perfect game, Rodriguez said: "Good for him.
He threw a perfect game, and even better, he beat the Rays." That's about the best answer one can give in the situation. He acknowledged the feat and kept it to baseball. The matter, at least from Rodriguez's perspective, seems to be closed.
For his part, Braden didn't say anything provocative after the game, holding true to the alleged rep of his home area code and tacitly agreeing with A-Rod to bury the hatchet. That is, unless Rodriguez is going to respond to Braden's grandmother.  She was at the game and, according to Susan Slusser of San Francisco Chronicle, had this to say the moment someone shoved a microphone into her face: "stick it, A-Rod!"
That's funny, but ultimately inconsequential, because I'm going to go out on a limb here and guess that A-Rod isn't about to go after Braden's grandmother.  It's Mother's Day. Let her have the last word.
And let us close the book on the Braden-Rodriguez feud. Each got their shots in, each had their bad moments, but it ended with a perfect game on a sparkling Sunday afternoon, and that means baseball wins.
But then again, baseball always wins, doesn't it?