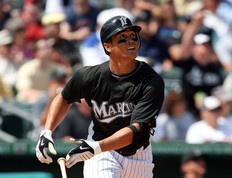 Marlins outfield prospect Mike Stanton is on an absolute tear this season for Double-A Jacksonville with a  .340 batting average, a .477 on-base percentage, an .840 slugging percentage and 14 home runs in just 27 games.  Rehabbing reliever Dan Meyer was able to take in one of those homers Thursday in Jacksonville.  Here's how he described the shot to the Miami Herald's Clark Spencer:
"I was there for Stanton's 7,000-foot home run. … The first thing I said was I'm going to try to tell people about this and it
won't do it any justice. It's 395 to the wall out there in left center.
The scoreboard is probably 80 feet high, if not 100 feet. It's a huge
scoreboard, and he cleared it. … This ball was absolutely demolished."
The Marlins have a fairly talented outfield this season and don't have an immediate need for Stanton's presence in the big league lineup, but that could change if the mashing continues at Double-A.  He should at least gain a promotion to Triple-A New Orleans by June.
Stanton was drafted out of high school by the Marlins in the second round of the 2007 MLB June Amateur Draft.  He's only 20 years old and won't turn 21 until November.  This kid might be something special.