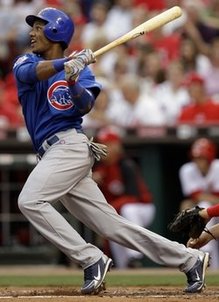 Before Friday's game against the Reds, Cubs manager Lou Piniella said the club wasn't asking top prospect Starlin Castro to provide a "spark" for the team. Well, Castro must have missed that memo.
On Friday, the 20-year-old Dominican became the first player in major league history to drive in six runs in their major league debut. The previous record-holder — the immortal Ben Grieve — drove in five runs on September 3, 1997.
Castro connected for a three-run home run in his first at-bat in the second inning — the third player to do it this season (Jason Heyward, Luke Hughes) — and the sixth in Cubs history. The last Cubs player to accomplish the feat was pitcher Jim Bullinger on June 8, 1992. If that wasn't enough, Castro later added a three-run triple in the fifth.
Cubs right-hander Carlos Silva summed the youngster's night up pretty well:
"Unbelievable. I was hitting behind him, looking at everything he was
doing. I was like: 'Wow.'"
I'm a little worried that short-term expectations could get out of control after a historic night like this, but the North Siders and their fans have a homegrown player to be very excited about. And that's always a good thing for this game.