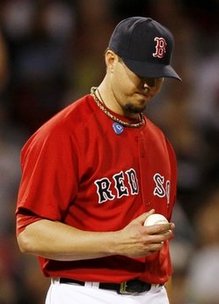 You wouldn't know it by looking solely at the 10-3 final score, but aside from a three-run homer by Nick Swisher, Josh Beckett was actually pitching pretty well against the Yankees on Friday. Until the sixth inning, that is.
Beckett lost complete control of the strike zone during the frame, hitting Robinson Cano in the left knee and Derek Jeter in the back and walking Francisco Cervelli with the bases loaded. Alex Rodriguez led off the inning with a double to left center field, but from there, it was true station-to-station baseball as the Yankees kept taking advantage of Beckett's mistakes, scoring six runs and putting the game completely out of reach.
Here's how Beckett described the meltdown to Amalie Benjamin of the Boston Globe:
"I just had no idea where the ball
was going," Beckett said. "Hit Cano with a cutter, and then Jeter with
the bases loaded with a sinker in. Trying to throw the ball too hard.
Just trying to throw better pitches instead of worry about location,
worrying about velocity.

"Just
when you try to overthrow like that, your delivery gets all messed up.
You're not worried about execution. That's what you should be worried
about."
For what it's worth, Yankees manager Joe Girardi told reporters that he didn't think Beckett hit anyone on purpose, saying that "sometimes things go a little haywire."
Haywire is a bit of an understatement right now, as the $68-million man has a 7.46 ERA through his first seven starts. He has allowed at least seven runs in three out of his last four starts. I want to give him the benefit of the doubt for now, as his strand rate and batting average on balls in play are completely wacky, but the fact that he is averaging 3.51 BB/9 — highest since 2003 — while striking out less batters and allowing more line drives is troubling.