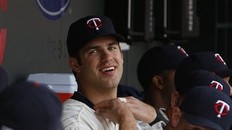 UPDATE: We won't be seeing Mauer tonight. Twins manager Ron Gardenhire tells Christensen that the Twins will see "where he's at tomorrow or even Tuesday."
"He's anxious. He really wants to play, but he also knows his foot's not
quite there yet. … We don't want him to bang it, or he could be out a
long, long time."
5:17 PM: Christensen writes that he hasn't seen a lineup for Saturday's nightcap against the Orioles, but that Drew Butera will be catching.
4:29 PM: According to Joe Christensen of the Minneapolis Star-Tribune, Joe Mauer took batting practice and ran the bases before Saturday's doubleheader against the Orioles. Twins manager Ron Gardenhire told Joe Kieser of MLB.com that Mauer is "real close" to returning to action.
"[Mauer's] doing a lot better," Gardenhire said. "He's been running
around, and he ran on the track. We'll see how he feels before making a
decision."
Mauer hasn't played since April 30 due to a bruised left heel. Gardenhire hasn't ruled out using him as a pinch-hitter this weekend, but tells Kieser's that Monday's scheduled off-day could prove beneficial.
"The off-day is huge," Gardenhire said. "I know Joe's getting a little
anxious to get out there, but we'll just have to see."
Including the first game of Saturday's double-dip, rookie Wilson Ramos has started six straight games behind the plate. Entering Saturday's action, the 22-year-old is 8-for-20 (.400) with one RBI, though he has cooled down considerably of late.