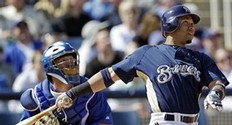 Brewers outfielder Jody Gerut hit for the cycle during Saturday's rout of the Diamondbacks, tallying a solo homer in the second inning, a bases-loading single in the third, an RBI triple in the fourth and a two-run double in the ninth.  Quite an evening for the 32-year-old .262/.326/.433 career hitter.
Gerut's cycle is only the fourth in Brewers history.  The last guy to do it?  According to Tom Haudricourt of the Milwaukee Journal Sentinel, it was Chad Moeller back in 2004.  There's a joke on the tip of my tongue having something to do with a blind squirrel and a nut, but let's just focus on the positive and celebrate the accomplishment.
The Brewers are a disappointing 14-16 on the year, so it's nice that the people have something to smile about for the night.  Gerut, a utility outfielder most nights, may have earned himself some additional playing time.  It's not like Corey Hart is making much noise at the plate, and he's certainly not making history.