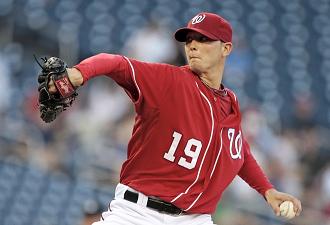 Scott Olsen had his no hitter broken up with one out in the top of the
eighth inning against the Braves.  If he had actually no-hit Atlanta, it would have been the second time on the young season that it happened (See, Jimenez, Ubaldo). That wouldn't have been good. Indeed, after the game, Chipper Jones said ""I think if that would have happened you'd probably have to put us all
on suicide watch."
Sounds to me like the Braves would have done anything to avoid that.  But would they have sunk to mind games, dirty tricks and general nefariousness?
That's what the Nationals Enquirer blog thinks. After pointing out that Bobby Cox had the grounds crew come out to the mound to tamp it down and do a little maintenance a half-inning before the no-no was broken up, Nats' Enquirer says:
Okay, so maybe in the grand scheme of things, this request by Bobby Cocks Cox and/or Tim
Hudson had nothing to do with David Ross breaking up the no-no an inning
later, but damn if that doesn't appear to be a totally Bush League,
classless move.
Hurm. Though I'm sure mound
maintenance during a no-hitter is not printed somewhere in the unwritten rule book, I can't say I know the politics of that sort of thing.  For what it's worth, I scoured various Braves and Nats blogs this morning, as well as the game reports from the AJC, the Washington Post and MLB.com, and I couldn't find a single mention of the mound tamping thing.
I'm not one of those guys who offers knee-jerk defenses of my team, but
in this case I'm not seeing it.  If any of you have any insight into this matter, by all means, I'd love to hear it.