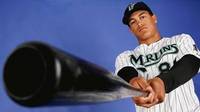 During an interview with Clark Spencer of the Miami Herald on Friday, Marlins owner Jeffrey Loria had some high praise for prospect outfielder Mike Stanton and hinted that we will see him in the majors very soon.
"He could hit 500 home runs. When he's ready to come, he's going to be
here. When he's ready and the baseball people tell me he's ready to do
it, we'll do it. I gather the baseball people don't want him to come and
fail. If he's going to come here, he's going to come here to stay. We
always want to provide the foundation for success, not temporary
success.He'll probably be here this summer, that's all I can tell you.
He'll be very exciting to come around. Don't forget, there's a lot of
pressure to put on a 20-year-old man."
Stanton, 20, is batting .340/.477/.840 with an incredible 14 home runs and 31 RBI in 100 at-bats with Double-A Jacksonville this season. His OPS? 1.317! His home run on Thursday? Yeah, it just landed.
As for the current Marlins outfielders, they've combined to hit just four home runs in 370 plate appearances entering Friday's action. Stanton still strikes out a little too much, but he's at least balanced his 31 strikeouts with 26 walks. But he's a little less likely to be feared in the major leagues, at least initially. In any case, you can bank on seeing him in the bigs after Memorial Day.