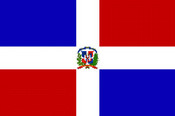 An announcement of two new initiatives from Sandy Alderson's Office of Major League Baseball in the Dominican Republic:
First, in cooperation with independent trainers, MLB has launched
workshops that will educate unsigned young players about the dangers of
performance-enhancing substances.

Second, beginning today, MLB will institute a comprehensive
registration and drug testing program for unsigned prospects who will
become eligible to sign professional contracts after July 1, 2010.
This is a good move. Baseball invests far too much in international signing to mess around with players who juice up while being scouted, give teams an inflated sense of their
strength and speed and then go off the stuff and reveal themselves to be
lesser players once minor league testing kicks in.
Which has been happening quite a bit lately. You'll recall that back in March the Indians announced that they were going to do this on their own.  My concern at the time was that this would simply work to make players avoid the Indians and whatever handful of teams adopted such a policy.
Good for Major League Baseball for taking a comprehensive approach to this.