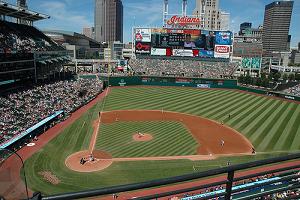 So I'm hitting the road and heading up to Cleveland to take in the Indians-Tigers game tonight. But it's not just any ballgame for me. I've been invited by the Indians to sit in the "Tribe Social Deck."  Basically: blogger press box in the left field bleachers with WiFi and all of that stuff. Can't pass that up!
The forecast currently looks grim, but we're a resilient lot here in the Midwest, and I have faith that we'll get this one in.
I should be tweeting — I'm @craigcalcaterra if you're into that sort of thing — and probably posting a few things from the ballpark tonight.  Laptops are waterproof, right?
Of course they are.